Proud dads, lovely daughtersSeveral families in our church recently hosted a Father/Daughter banquet. We enjoyed a wonderful meal together. Each father and his daughters shared a table with one other father and his daughters (except for one family which filled a table with daughters from the same family!). Each daughter was asked to bring a card for their dad and they shared those with dad during dinner. Dad shared a character trait he saw in the life of each daughter and also another that could be improved.
Proverbs 23:25After dinner, each set of daughters answered 12 questions on their dad's likes, dislikes, and behaviors, while dad answered them for himself. Afterwards, answers were compared to see how well the daughters knew the dads. Most families had the same answer for 8 or 10 or the questions. One family had 11 correct.

Mr. SchuttgerNext, Mr. Schuttger spoke, focusing on the dads and the directions for their daughters eventual courtship and marriage or their possible life unmarried and serving the Lord. Then Miss Voss and Miss Youngblood took turns speaking to the young ladies about ways to honor their dad and keep their relationship strong.
This was the second year our church held this banquet. Each dad and daughter anticipated the event for weeks and enjoyed this blessed time the Lord provided through the industry and service of a few faithful families who worked to host this banquet.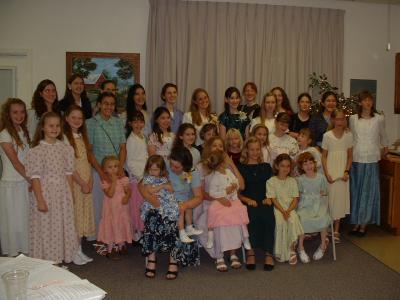 Beloved Daughters
Update - here are photos from the 2008 banquet, held April 10.